SrI:  SrImathE SatakOpAya nama:  SrImathE rAmAnujAya nama:  SrImath varavaramunayE nama: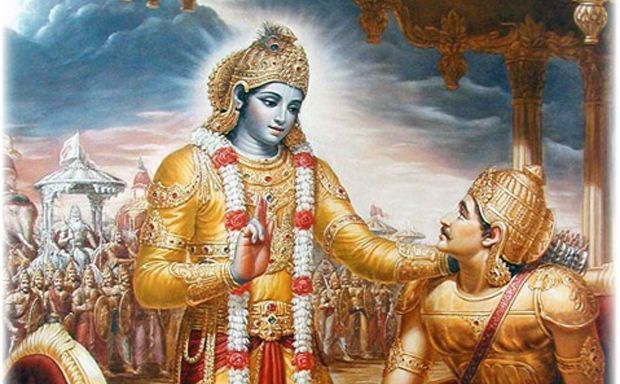 bhagavath rAmAnuja at AzhwArthirunagari, SrIperumbUthUr, SrIrangam and thirunArAyaNapuram
AUM
ŚRI BHAGAVAD-GĪTĀ
WITH
SRI RĀMĀNUJA'S VIŚISHTĀDVAITA COMMENTARY
THE EIGHTEENTH LECTURE
NAMED,
MOKSH-OPADEŚA-YOGA
OR
THE BOOK OF THE INDOCTRINATION OF SALVATION.
PROEM
BY the two preceding Lectures (XVI and XVII), the following matters were discussed:
That the only Means for achieving either material prosperity (abhyudaya) or spiritual freedom (niś-śreyas), is the observance of Yajña1, Tapas2 and Dāna3, along the lines laid down by the Veda; and no other.
That all Vaidika-observances are commonly characterized by the use of Praṇava (OM) in relation therewith.
That the difference between the Means leading to Moksha and that leading to material goods, is symbolized by the term TAT, for the former, and SAT for the latter.
That Yajña etc., when performed for the sake of acquiring Moksha, must be performed without aiming at fruit.
That so performing them is the result of the Satva-Guṇa gaining prominence; and that Satva-growth is caused by taking Sātvika-food.
Next (in this Lecture), the following points are expounded:
The nature of Tyāga.
The contemplation that in the Sovereign Lord Bhagavān rests the agency of all acts.
A description of the effects produced by the Guṇas Satva, Rajas and Tamas, in order to show that Satva alone is worthy of acceptance for culture).
How the acts appropriate to Castes, —which are but acts of worship to Paramapurusha— effect or accomplish the gaining of Paramapurusha. And that,
The Quintessence of the Holy Writ of Bhagavad-gīta, is the Teaching or Exposition of Bhakti-Yoga.
And here to begin with, Arjuna asks that he may be enlightened as to whether Tyāga6 and Sannyāsa7 are identical or distinct, and what is their nature:
archived in http://githa.koyil.org
pramEyam (goal) – http://koyil.org
pramANam (scriptures) – http://granthams.koyil.org
pramAthA (preceptors) – http://acharyas.koyil.org
SrIvaishNava education/kids portal – http://pillai.koyil.org